A chocolatier with a vision.
Expect to be surprised... when you first taste Bonnat chocolate. Expect the unexpected, a showcase of flavours, and pure, velvety sensations of pleasure. The experience will make you re-think everything you know about great chocolate and about the infinite possibilities that bars of Bonnat chocolate can offer you. This exceptional experience began with the vision of an accomplished and committed artisan, a tireless ambassador for his art and the science of taste.
Stéphane Bonnat inherited his vision through family tradition, and he continues to develop it by manufacturing Maison Bonnat's historic products and by producing his own personal work, thus creating the benchmark chocolates of the 21st century, a little at a time. Welcome to the Grands Crus d'Exception, regular award-winners in international competitions!
Son, grandson, and great-grandson of chocolatiers and confectioners, he is one of two or three professionals in the world to link the complete mastery of his profession to the origin and quality of cocoa beans. A traveller at heart, he visited his first plantation at the age of 17 and learnt all there is to know about cocoa farming from South-American farmers. A chocolatier and confectioner by profession, Stéphane may have travelled across Europe to train with the best, but he also learned Bonnat's unique techniques and the secrets of great chocolate by working with his father Raymond in the family laboratory.
"I believe a chocolatier has a duty to work on the whole of his product, from harvesting the cocoa beans and fermenting them at the plantation, to roasting and transforming them once they arrive in France.
The excellence achieved by the greatest master-chocolatiers relies on this perfectionism. Our meticulous attention to detail and our passion are what drive us to do more than simply assemble the grands crus."
A remarkable idea
In 1983, Raymond Bonnat invented the grands crus: the first chocolate bars made exclusively with cocoa beans from the same origin. In time, these bars would become the Grands Crus Historiques of Maison Bonnat. Stéphane continued this pioneering work by closely monitoring the cocoa farming process and even acquired his own plantations. He works in collaboration with partners to source cocoa beans in Asia and Africa, and for five months out of twelve each year, he undertakes a long journey through tropical forests, from Peru to Mexico, from Venezuela to Brazil, from the Ecuador to Trinity, Haiti, and Cuba, searching for the rarest cocoa species and restoring life to cocoa we thought lost. He is committed to sustainable agricultural practices and, as a member of the Rainforest Alliance program, he establishes fair trade relationships with families and farming cooperatives and continues to work in close collaboration with these groups.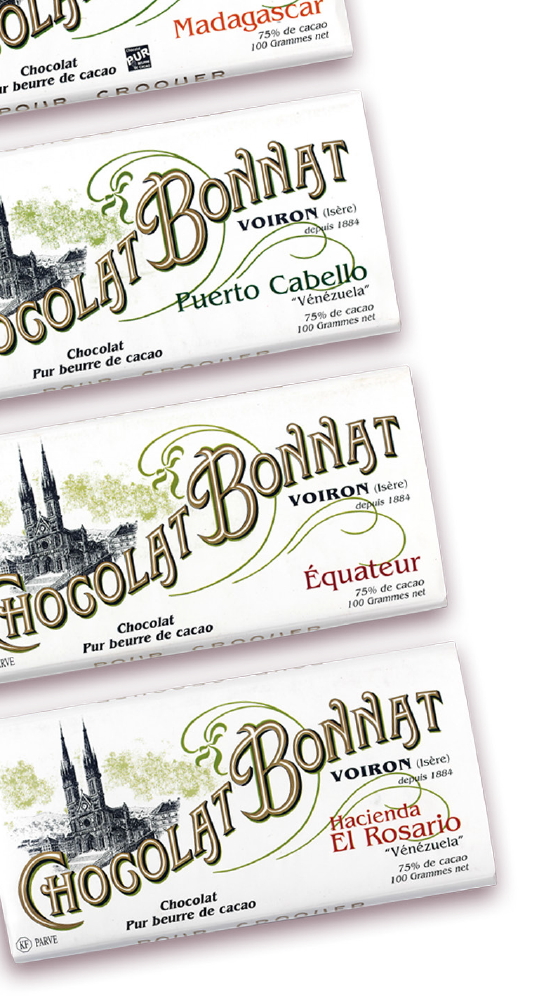 "On location, I always listen to the producers. They often farm plots of land which have been passed from father to son since the dawn of time and have excellent notions of botany. I always travel with bars of Bonnat chocolate, so they can taste it and understand the flavours I'm looking for.
Together, through communication and discussion, we decide on the best after- harvest treatment for the cocoa beans, and by implementing strict fermentation controls, we are able to achieve our desired quality in approximately 4 years. It's definitely a long-term job. But it's this search for excellence that helped us win beautiful gold and silver medals at the last International Chocolate Awards."
Cocoa, cocoa butter, sugar
and nothing else !
Stéphane Bonnat's vision begins with understanding the land, cocoa farming, and the well- being of farming families, and is followed by meticulous production of a very natural chocolate in the Voiron laboratory. The resulting quality of this chocolate would be impossible to obtain through industrial processing. Stéphane does everything possible to reach a level of perfection which reveals the true taste and benefits of the single-origin cocoa. He roasts and ferments his cocoa beans on location and is one of the few chocolatiers to practice 48hr conching. Mixing the cocoa paste in this way allows him to bring out the qualities of the cocoa and remove any overly acidic or astringent flavours. Due to this very long conching process and the company's exclusive use of cocoa butter, Bonnat chocolate has no need for chemical additives to improve its flavour or texture. The expiration date on each product demonstrates the lack of chemical preservatives used. So whether it's bars of chocolate or a delicate chocolate coating on sweets, Bonnat chocolate is made from cocoa, cocoa butter, sugar, and nothing else!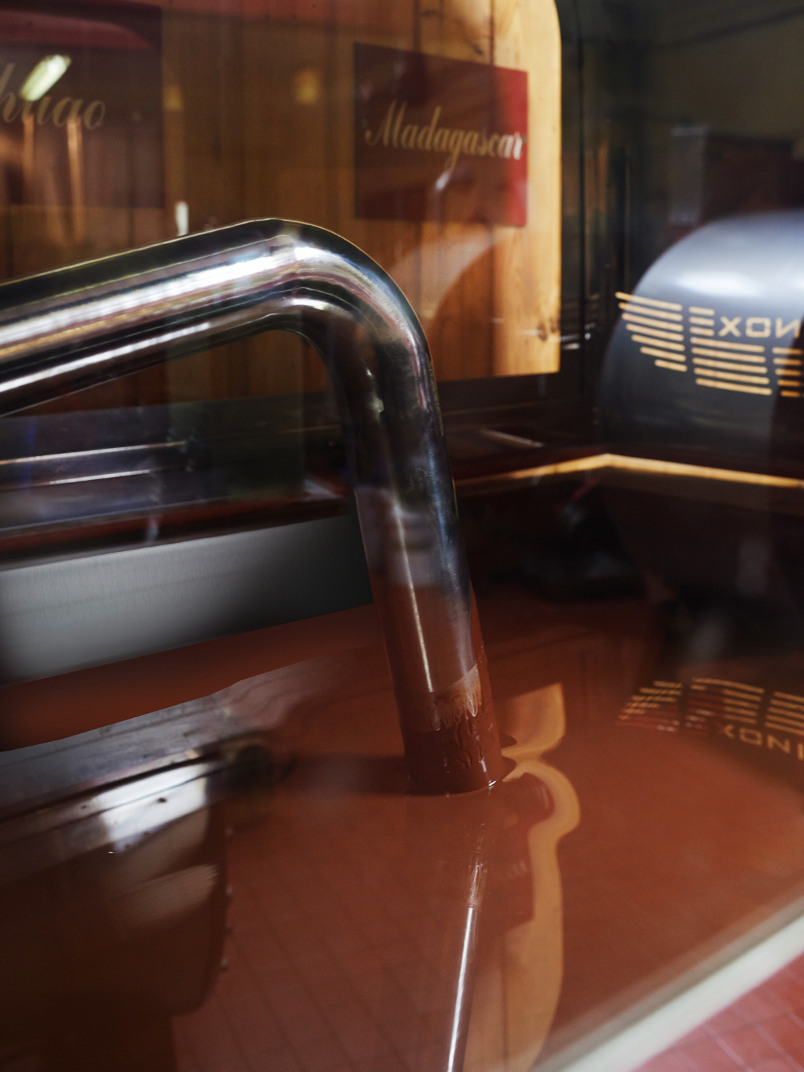 While travelling across Latin America, Stéphane Bonnat strengthens his commitment to use cocoa as a force for development. Due to his generosity and respect for his clients, the land, and the people who farm it, Stéphane ensures that he always provides an exceptional and delicious product; a product which is not only moment of pleasure for those who taste it, but also a connection to the planet.
An active promoter of the Peru Cocoa Route, Stéphane Bonnat also crosses continents as an ambassador for his products and his convictions. In order to create and reinvent the chocolate of his time, he meets with his clients, with great chefs, and with other chocolatiers, to exchange ideas, taste, share, and create. He is passionate about his profession and about all the possibilities chocolate has to offer. He often attends exhibitions and is always ready to greet you with humour, courtesy, and simplicity.
Ultimately, it's the taste, the honest approach and the modest presentation of Bonnat chocolate which invite us on a joyful human adventure, with Stéphane leading the way and steering us towards the discoveries to come.